Testimonials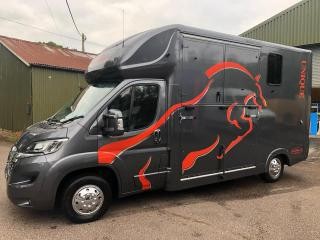 We could not be happier with our new box. The service has been amazing from start and finish from Paul. We would recommend to any one wanting 5* service and a top class horse box! Katherine Sands.

So happy with my horse box that my dad has just got home from picking up! Going out with the horses on Saturday so just in time. Thank you Paul! I would definitely recommend Unique Horseboxes. Esme Slater

I couldn't be happier with the whole package this lovely couple have given us! Paul was so helpful with everything I asked highly recommend unique horseboxes to everyone once again thank you so much I love the box.Harry Garratt
We have had our Horsebox for around 7 years. Great little lorry, so economical to run and maintain and most importantly our horses travel safely and well. Good to be able to choose own colours and lay-out. Looking forward to ordering our next one from Unique Horseboxes. Karen Brouder

Highly recommend. We love our box! Driven home the same day we looked at it, cleaned & ready to go, fab service. Thanks Unique xx Molly Etheridge
Thank You to Paul
our lovely new horse box. Our horses love it. First time out in it today. The horses traveled really well. It looks very smart. Deborah Harris
Thank you Paul and team for making buying a new horsebox so pleasant and hasslefree. Would thoroughly recommend. Ann Reid
Thank you for a seamless service. Paul was extremely helpful when we went to choose a box. The service during the purchase was great and I'm really pleased with my box. I went out in it for the first time today, it drove really well and smooth and my horse had a great journey. I would highly recommend Unique Horseboxes. Amanda Willis
Travelled the very long 7 hours down to Sussex from Newcastle today to collect my new box. I must say I'm very impressed with how it was turned out waiting for me to jump in and drive away! Drove back to Newcastle like a dream. Very helpful man. I would definitely recommend. Thank you!! Holly Johnstone
Absolutely adore my little box Horses travel amazing. I love driving it, its just so easy to use, especially when I'm on my own.I would definitely recommend Unique Horseboxes, great customer service and lovely guys.
Thank you x Amanda Fullard-Todd