About us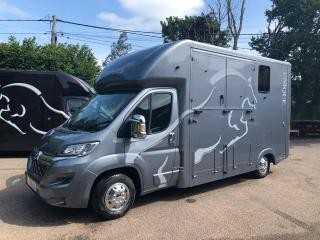 How we began

Unique Horseboxes is a family run business based in Hailsham, East Sussex. Our business was born from our own need for a horsebox. Whilst looking for a new model for our own personal use we discovered that there were no reliable, affordable suppliers of top quality horseboxes in the local area. So we ventured further afield, and after purchasing a top quality model from a designer in another part of the UK, we spotted a gap in the market.

A number of friends and other horse owners asked us where we had purchased our horsebox from and many enquired as to how they could get their hands on something similar. So, in the end we decided to go into business and Unique Horseboxes was born! Since then weve spent years supplying top quality, reliable horseboxes to customers in Hailsham and the surrounding area.

Founded in 2010, we originally worked out of our home, however, after growing and selling more models, we eventually moved to our new site, where we now stock a variety of lovely models for our customers.

Top quality horseboxes for sale in Sussex
We supply a
of carefully selected chassis vans which we source ourselves. We also provide our customers with custom-built models from our fantastic supplier who has over 20 years experience in the design and manufacture of quality, purpose-built horseboxes.

As well as offering our customers a range of fantastic models to choose from, all of which are at very reasonable, competitive prices, we also provide a friendly, personal service. We want to make the buying process as care-free as possible, so our customers can make use of a variety of finance payment options provided by trusted third parties who were happy to recommend.

We also offer top quality after sales service. If you have any issues with your horse boxes then our experienced team is available to help sort them for you. We can fix any problems on site or at your home. On top of this, all of our boxes also come with a 12-month build warranty.